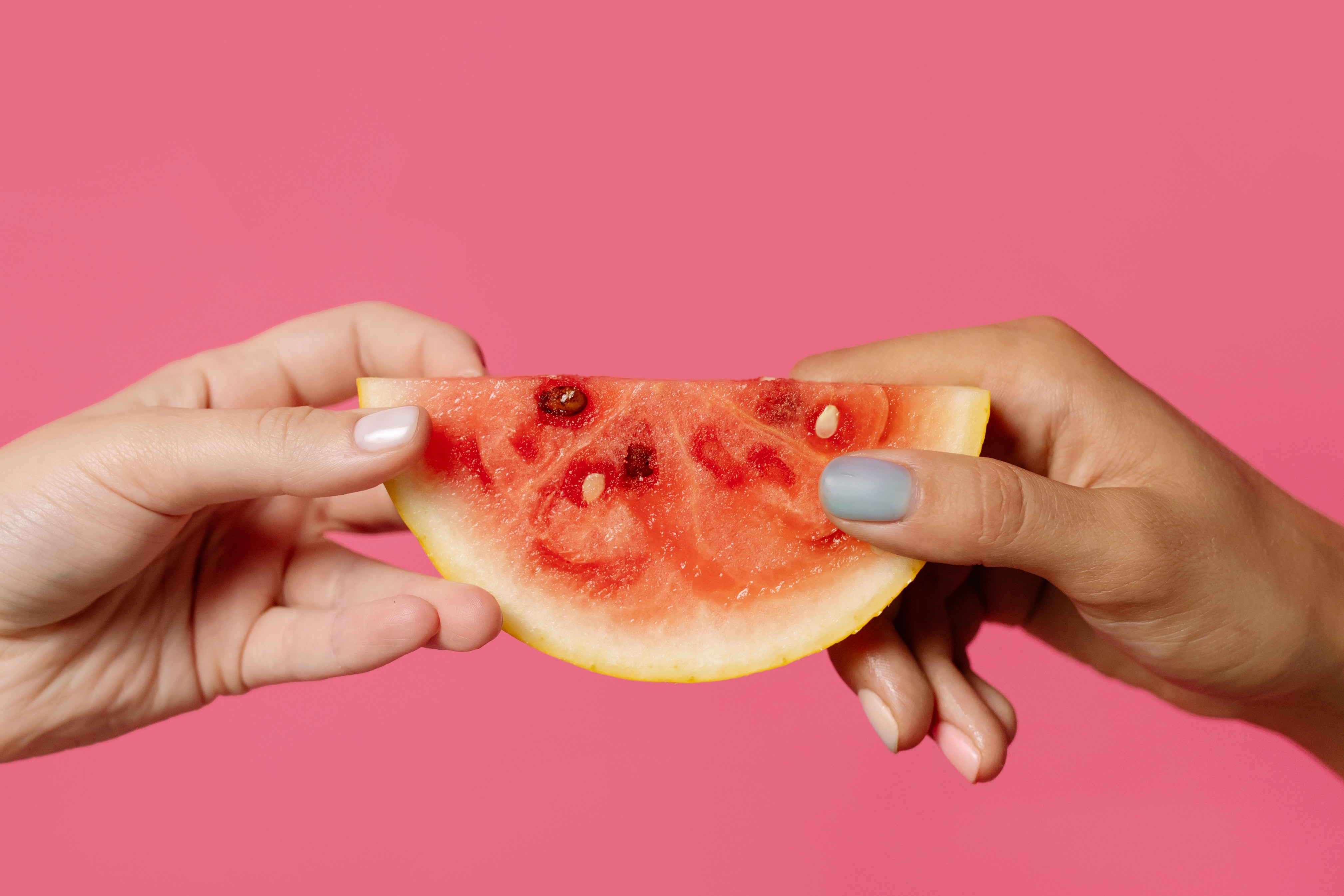 WATERMELON
Watermelon has A LOT of antioxidants, which have an anti-inflammatory function and are not only good for your body but also for your skin, as it can be the solution for when the skin is irritated or needing some extra hydration. Skin irritation is quite common and it can be due to several factors, such as food, cosmetic products, or genetics. Watermelon, though, is so amazing that can help to combat that from the inside out and from the outside-in, and that isn't the only benefit of the fruit. 
According to some of the most qualified dermatologists in New York city, such as Rosemarie Ingleton, M.D., dermatologist and medical director of Ingleton Dermatology, and Fran E. Cook-Bolden, M.D., dermatologist, cosmetic and laser surgeon watermelon-infused skincare products can deliver hydration (being composed of 92 percent water), essential nutrients for our skin, aminoacids and mild exfoliation. 
An interesting fact is that we bet you didn't know is that watermelon rind has been used for generations in Korea to calm irritated skin, as rubbing watermelon rinds on sunburn, rashes, or scars can reduce redness, calm inflammation, and even speed up the cell turnover process. Therefore, products containing watermelon rind, like cooling masks, provide a great cooling feeling along with a soothing and healing effect.  
It seems like all parts of the watermelon have different beneficial properties for our skin, as the seeds contain protein and a bunch of fatty acids (including hydrating oleic acid, which is a blessing for dry, aging skin since it penetrates easily and deeply into the skin's surface, replenishing lost moisture that naturally comes with age) as well as ceramides, which hold the skin together and form a protective layer to help prevent moisture loss and visible damage from environmental stressors.
The nutrients that we previously mentioned also include vitamins A, E, B6 and C. Vitamins E and C help with signs of UV damage, dark spots, or dry patches, while vitamin  A helps to hydrate the skin and gives it a  radiant natural glow. Vitamin B6 combats dermatitis helps synthesize collagen, which is needed for healthy skin. 
After seeing all these amazing benefits we have arrived at what we think it's the best part of using watermelon in your skincare routine. It matches any complexion: oily, dry, aging, acne-prone, sensitive… So cheer up acne, break-out, and sensitivity sufferers! We all know it's more of us now that the masks have played their part in irritating our skin during this quarantine. Well, there couldn't be a better product to use: try Vegan's serum or day moisturiser and you will see how good it feels from the first go,  and the amazing results on your skin after about 30 days. 
We have paired watermelon with hyaluronic acid to create a bomb of hydration, which will give you an incredibly elastic skin and help with any upcoming or prevailing fine lines. Isn't it wonderful?